The Coordinating Secretary of the Tax Appeal Tribunal, Bolanle Oniyangi Esq on Thursday 14th of July 2022 received the audience of the Acting chairman of the FCT-Internal Revenue Service, Mr. Haruna Abdullahi, and his team who came on a courtesy visit.
The FCT-IRS Ag. chairman. Haruna Abdullahi expressed deepest thanks to the Tax Appeal Tribunal for the hands of fellowship and stated that the essence of the courtesy visit is to open a channel of communication with the tribunal and how his agency can partner to take advantage of the successes recorded on the timely and effective justice delivery on tax dispute.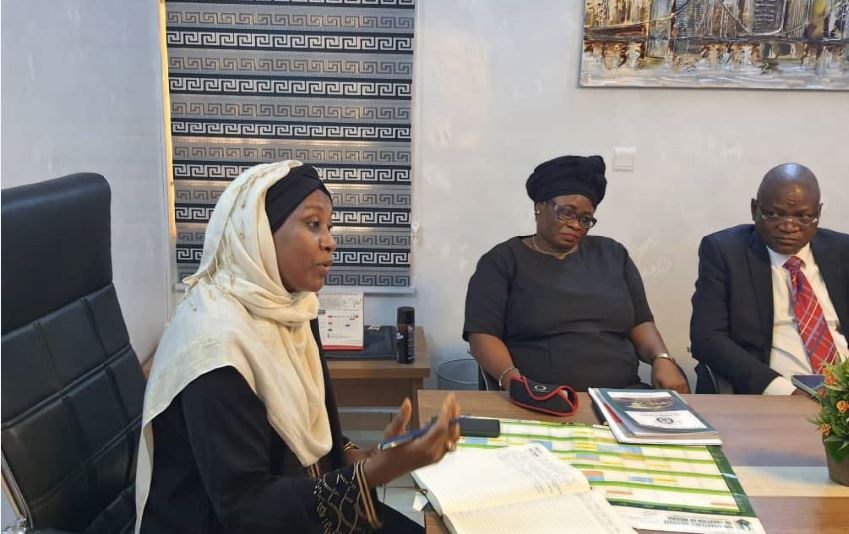 Left: Bolanle Oniyangi addressing the guests
Mr. Haruna Abdullahi while promising that FCT–Internal Revenue Service would continue to partner with the tribunal, commended the Coordinating Secretary's resourcefulness for building a dynamic tax dispute resolution center, worthy of public trust and confidence; and opined that with the seamless advantages the tribunal affords on Tax dispute resolution, it would be good to work with the TAT.
In her remark, the Coordinating Secretary of the Tax Appeal Tribunal, Bolanle Oniyangi thanked the Ag. Chairman FCT-Internal Revenue Service for this visit and extended the tribunal's readiness to partner with the revenue service on areas of knowledge and capacity building.
The Coordinating secretary highlighted some of the unique features of the TAT which include having professionals and tax experts on its panel, quick dispensation of matters before the tribunal and easy conduct of proceedings. She highlighted the latest innovation of the e-filing and introduction of new Procedure Rules, all geared towards timely dispensation of cases.
In further submission, Bolanle Oniyagi said the Tax Appeal Tribunal is willing to train the staff of the FCT-IRS in the use of the e-filing.
In attendance from the entourage of the FCT-IRS were Director Human Resource – Umar Jada, Director Tax Operation, Malik Tukur, Director ICT – Oduba Oduba, Assistant Director Legal – Bar Festus Tsavsar, and others.
Also in attendance were the Honourable Commissioners of the Abuja Tribunal led by its Chairman, Alice Iriogbe; Secretary of the zone, Aliyu Ahmed Esq and others.
---